Yummy cake recipe behind the cut.



Chocolate Cherry Cake

From The Cake Mix Doctor

Serves 20

Prep time: 7 minutes

Bake time: 30 to 35 minutes

Assembly time: 10 minutes

Cake:

Vegetable oil spray for misting the pan

1 package devil's food cake mix, with or without pudding mix.

1 can (21 ounces) cherry pie filling

2 large eggs

1 teaspoon almond extract (vanilla will do in a pinch)

Chocolate Glaze:

1 cup sugar

1/3 cup butter

1/3 cup whole milk

1 cup semi sweet chocolate chips

1. Preheat oven to 350°. Lightly mist 13 by 9 inch cake pan with spray.

2. Place the cake mix, pie filling, eggs, and extract into large mixing bowl. Blend with an electric mixer at low speed for 1 minute. Stop mixer and scrape down the sides of the bowl. Increase mixer speed to medium and beat until well blended. The batter should look thick. Pour batter into the cake pan and smooth the top with a rubber spatula.

3. Bake the cake at 350° for 30 to 35 minutes, or until the cake starts to pull away from the pan. Remove the cake from the oven and cool slightly while preparing the glaze.

4. Prepare the glaze- cook sugar, butter, and milk over medium heat until the mixture comes to a boil. Boil, stirring constantly, for 1 minute. Remove pan from the heat and blend in chocolate until melted. When the glaze is smooth, pour over the still warm cake so it covers the entire surface. Cool for 20 minutes before serving. This cake will stay fresh for several days.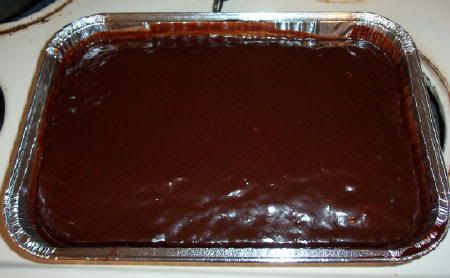 This cake is a real crowd pleaser, and it's just about the easiest thing to make! I made this for one of the Trek BBS meet-ups- it was a birthday cake for

kiss_kass

This is the book it came from: The Cake Mix Doctor