Happy Easter to my f-list! I've had a very long, crazy day. Very long, so under a cut!


The church services went well. All of our music sounded really good. The church looked beautiful! This is the cross everyone brings flowers for every Easter Sunday: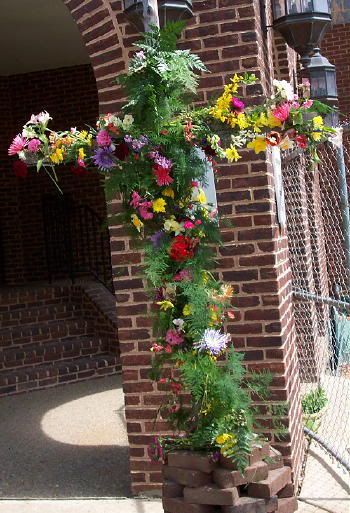 We sang a lot of great music. Our introit was "Mary to her Savior's Tomb", words by John Newton (1725-1807):
Mary to her Savior's tomb Hasted at the early dawn.
Spice she brought and sweet perfume, but the Lord she loved was gone.
For a while she weeping stood, struck with sorrow and surprise.
Shedding tears, a plenteous flood, for her heart supplied her eyes.
O my Savior, O my Savior, Where has my Savior gone?
O my Savior, here is my Savior, He is risen from the tomb.


This is one of my favorite Easter texts. We've done it before, in three different settings.
Our director/organist played the "Final- Toccata Symphony V" by Widor- another favorite piece of music of mine. It was the recessional piece at my sister's wedding!
And like every year, we were nearly overshadowed by the excellent brass players from Quantico. The Marines sure know how to find good musicians!
I had to help cook dinner for ten people! I contributed my usual dishes: Spanikopita and pineapple au gratin. And of course, I made two cakes: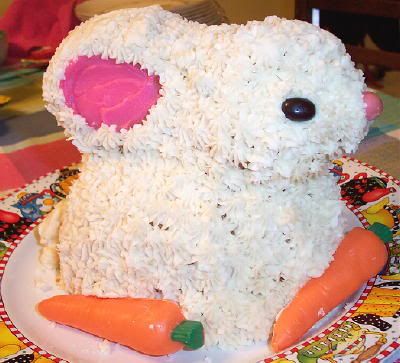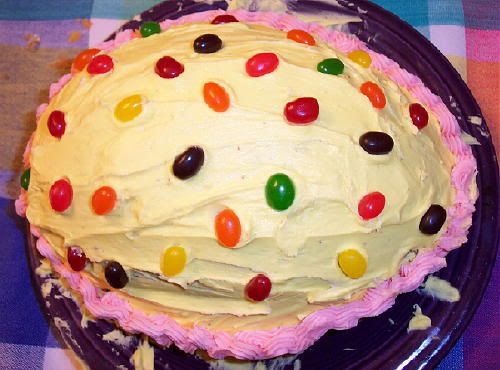 Here are two recipes from the choir breakfast:
Praline French Toast Casserole
From Paula Deen and Friends
Serves 8
8 eggs
1 ½ cups half-and-half
1/3 cup maple syrup
1/3 cup packed light brown sugar
10 to 12 slices soft bread, 1 inch thick (I use cinnamon raisin. Paula probably uses plain old white bread!)
Topping:
½ cup (1 stick) butter
½ cup packed light brown sugar
2/3 cup maple syrup
2 cups chopped pecans
1. Generously butter a 13-by-9 inch casserole dish.
2. Mix the eggs, half-and-half, maple syrup, and sugar in a large bowl. Place the bread slices in the dish and cover with the egg mixture. Cover dish with plastic wrap and soak overnight in the refrigerator.
3. Preheat the oven to 350°. Remove the casserole from the refrigerator.
4. Make the topping: Melt butter in a saucepan. Add sugar and maple syrup and cook for 1 to 2 minutes. Stir in the pecans. Pour the mixture over the bread and bake for 45 to 55 minutes. Allow to sit for ten minutes before serving.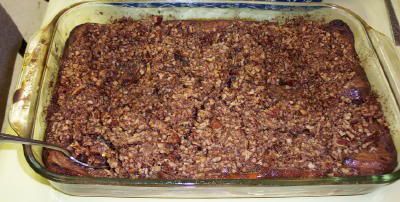 Breakfast casserole
8 eggs, slightly beaten
8 slices of bread, torn into pieces
1 pound cooked and crumbled bacon or sausage
2 cups milk
1 cup shredded cheese (cheddar or a cheddar jack blend)
2 teaspoons salt
1 teaspoon dry mustard
1 teaspoon Worcestershire sauce
Butter a 13-by-9 inch casserole dish. Place pieces of bread in the dish. Cover with the shredded cheese and crumbled bacon or sausage.
Mix eggs, milk, mustard, salt, Worcestershire sauce and pour over the other ingredients. Refrigerate for 12 hours. Bake 45 minutes at 350° until puffed and golden. Let stand for 15 minutes before serving.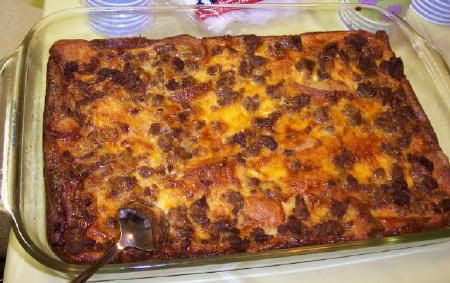 They were big hits. I also took another Rice Krispie Bunny. No one wanted to eat it because it was so cute...until my sister decapitated it!

The youth choir ended up eating most of it.
I am SO exhausted. I was up at 5:30 a.m., and I only got about 4 hours of sleep. I managed to take a quick nap between services and breakfast. I love Easter, but belonging to two choirs makes it a grueling experience. The plus side is I'm always guaranteed a seat during the services! I'm not anywhere near as tired as my sister, though.She not only had to direct her own choir, she had to help with the adults! And she recruited me, almost at the last minute, to ring bells for one of the youth's anthems. It was fairly easy.
Not very important, but I looked good today. I got a lot of compliments on my Easter dress.
The next big church related thing for me is the bell festival in two weeks!
This is the book one recipe came from:
Paula Deen and Friends
Enjoy the recipes!
(and apologies to crusher for using her icon.
)