I finished Mom's card and present! They're so cute. Long post ahead!
I finished stitching the card a while ago, but here it is all finished!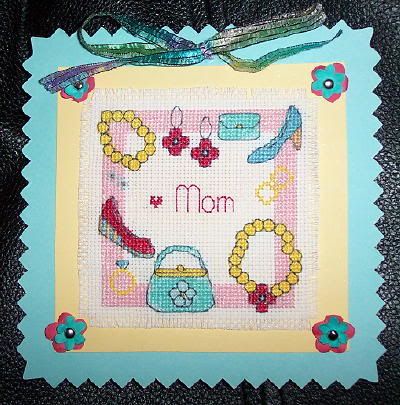 Here is her main present, for her to hang on the wall above her knitting chair. It's called "Purr One".
I can finally get back to work on Royal Holiday and start Miss New Year!
Mother's Day may be a disaster, though. The whole family is gathering at my sister's house...with her horrible in-laws. They live here now, and they're making Katie's life hell. They are truly awful people. My brother in law and his sister are fed up with them, too. They're both adopted, thank God. They didn't inherit any evil genes.
Even
Sam
is starting to dislike them. When your own grandchild doesn't want to be around you, you've done someting wrong! Oh, well, at least I get a chance to show off my baking skills. They all want a cake.
Sam was in Cleveland this week with his school band. They visited the Rock and Roll Hall of Fame. I was originally planning to be a chaperone, but figured Sam wouldn't be too cool with that.
I hope he took pictures!
There's a TrekBBS meet up this weekend! T'Bonz will be there. Hopefully the usual crowd will be there, too! There's also a meet up at Hershey Park, but that's a little too far for me without getting a hotel room. Maybe next time...
Speaking of TrekBBS, I've volunteered to switch forums with Trippy. Meaning I will probably be headed for the Enterprise forum and my doom. I like change, though. And I will have an excuse to visit ENT more often. I don't go in there much any more...