Edited to put under a cut! Didn't realize it was so long. Cake inside! Here's the cake I made for the family Mother's Day celebration: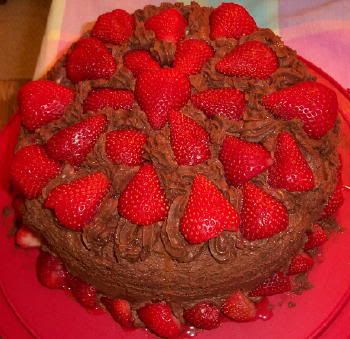 The recipe is way too complicated to post here. It's a white cake with strawberries and a hint of cinnamon, covered with chocolate buttercream and fresh strawberries.

It came from this book: Death By Chocolate Cakes




It was a Christmas present several years ago. I've made about half of the cakes in it! Some of the cakes are really hard to do. But they're worth the effort!

Dinner at my sister's was nice, despite having to be around her in-laws.
My brother-in-law did the cooking. He grilled shrimp and lobster, and they were the best I've had in years! I ate too much. Everyone liked my cake, and Mom loved her card and present.

Still feeling a bit icky and tired from Friday and yesterday. Also still bummed about missing the meet-up! There will be two more this summer at least. I'll make sure to get to both.

I haven't even felt like cross stitching much lately. I've gone for almost five days without stitching a thing. That's rare for me. I must really have been sick this week!

I have switched forums at TrekBBS- I am now the Meet-Up forum mod. Piece of cake.
Like the lounges, most trouble will probably come from spamming.

Crossing Jordan seems to have been officially cancelled. Dammit. It's ending on a cliffhanger, too. That sucks! The Law and Order shows have all survived the cut, though Criminal Intent will mostly be on USA starting next season. And like a fool, I've read the spoilers for Lost's final episodes this season. I'm quite sad and surprised.

I had a long rant about my church today, but I think I'll skip it for now. Let's just say I will soon be looking for a new church home...more later.