I got four hours of sleep last night. I had to get up early to ring bells at church, too. Yuck. When I got home I slept for four straight hours!

My sister and I went to brunch after church. I didn't feel like staying for choir, even though it was a piece I'd been looking forward to singing (an arrangement of "Down to the River to Pray" heard in O Brother, Where Art Thou) I just didn't have any voice today. Brunch was okay. We went to Perkins. It's nice to be able to sit down and talk to Katie every now and then. We really don't get to do that anymore- when we see each other, all we talk about is church stuff and my nephew! We talked about books and movies. I was surprised that we actually have the same all-time favorite book, Rebecca, and we're both annoyed that the movie isn' t on DVD.

Mom and Dad are having fun. They're in Santa Fe right now. They're headed for Boulder Tuesday, and they're going to swing by our old house and my high school in Broomfield before visiting friends in Denver and Boulder. They're also going up to Fort Collins to see what the Colorado State campus looks like now. Mom promised many pictures, and will stop by the bookstore to get me a T-shirt or something. I really liked college...I wish I could have gone with them! The garden would have died without me taking care of it, though.

The garden is looking really great. More lilies pop up every day, and the squash are coming in: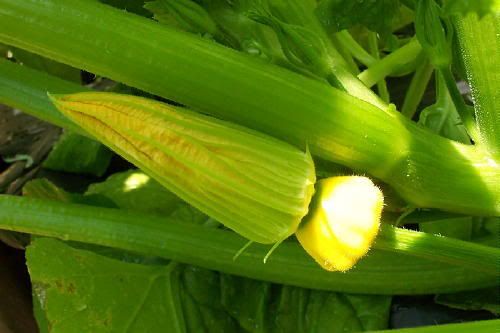 That's the first of many, I hope! The bugs seem to be staying away so far this year. The peppers and tomatoes should be starting soon, too. We're finally going to get some rain. Thank God. It's a pain to water everything every day.