There was no rush to get this Father's Day card done, because Dad won't be back until a week after, but I went ahead and did it: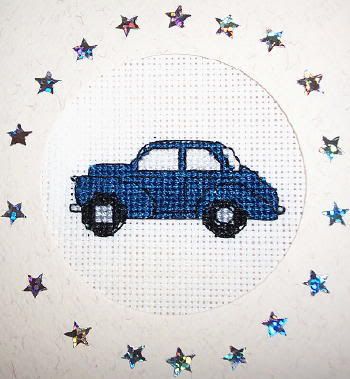 I'm not sure what kind of car it's supposed to be, but it looks like something from the 40's. Inside the card it will say: "Happy Father's Day to a classic!" The stitching took me just under two hours.

Fangirl stuff: Blood and Chocolate is out on DVD today. Will pick it up tomorrow. The movie may blow (I'll probably enjoy it anyway!), but it's got Bryan Dick and Hugh Dancy. Good enough for me.
I plan to have plenty of alcohol on hand to deaden the pain from the worst parts of the movie.

It's a pretty day out there, but there is definitely a storm coming. I've had a headache all day, and the stupid NOAA weather radio keeps beeping. It's sunny out now, but there's a severe thunderstorm watch until late tonight. I hope we get some rain out of it.