Former President Clinton's cat was put to sleep today. :( Poor kitty. He had cancer. 18 (though he was possibly 19) is a good long life for a cat, but it's always hard to let them go.
www.somdnews.com/stories/02202009/entetop133645_32246.shtml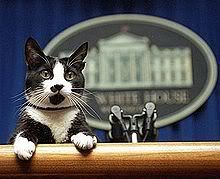 Yeah, I know. It's not important news, but as a cat lover whose own kitties are getting older, it makes me sad.