It fits, it is very cute...but it's a little too lightweight for Easter. This is the catalog picture (no picture of me in it until summer. So there. :p):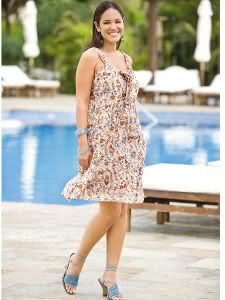 I should have realized how short it would be on me! Oh well, now I have a very sweet dress for the summer!
I went ahead and ordered the pink dress. There's a chance it will get here just in time for Easter.
Barely
. The expected ship date is the first week of April. If it doesn't get here, I'll wear something else.
My annual Delta Omicron newsletter arrived this week. The fraternity's 100th anniversary is this year. The convention is near Louisville...right at the time I'd normally be there, but I won't be. Of all the years to have the family reunion in Virginia, it's this one! I wish I could go to convention instead, but my plans are already set in stone.
The newsletter also had news about the schools- the Colorado State chapter is still active, but there wasn't any other news about it. It's very sad to see so many chapters being deactivated. :( Even the original is gone.
The letter had an order form for fraternity jewelry. I want this for my birthday: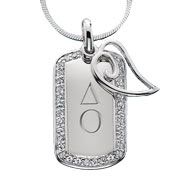 I wish the stones were pink. They really should be. D.O.'s colors are pink and gray. I still have my badge, chapter guard and office charms, and necklace from my college days. I never bothered with a ring...when I have a little more money, I'll get this one: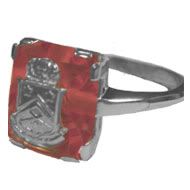 I'm feeling very homesick for Colorado right now...don't know why. Some days I really miss being in school. Isn't that weird?