The CU/CSU rivalry is getting lame (never mind that the REAL rivalry is CSU v. Wyoming).
Nice shirt.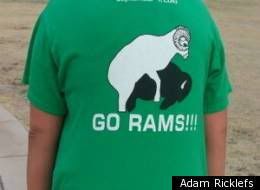 There's a pro-CU shirt with the mascots reversed. Funny, but icky, too.
Rocky Mountain Showdown seems to be dying off, anyway...
http://www.huffingtonpost.com/2011/09/19/cu-vs-csu-rocky-mountain-showdown-t-shirts_n_970380.html
The Rams lost. Boo. But 2-1 isn't a bad way to start the season.