Got a new cell phone yesterday. A Samsung Galaxy Exhilarate. I love it!
Saw Madagascar 3 yesterday, and now I can't get that damned "Afro Circus" out of my head.
I'm going totally overboard with my Hawkeye obsession! This is my new cursor: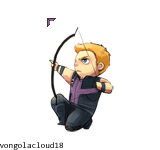 My cell phone wallpaper will be one of Hawkeye's sassy poses. Just need to figure out which one and how to get it on the phone!
The Daily RennerHawk spam:
(
Collapse
)