I like the wings- but I had to take them off to sit down! I think I overdid it on the makeup...and my hair is
not
gray- that's glitter spray.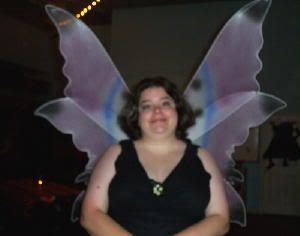 I just found the dress at the last minute- it wasn't really for the costume (I needed a nice black dress), but it went with the wings.
It was a nice little party. I took one of my famous cakes.
Me with my fairy wings. My mom sort of surprised me with the camera. I look like I'm doped up!
Current Mood:

tired