...I bawled all the way through the last pages of Atonement. God, what a sad ending...and what a great book. I need to read some more of Ian McEwan's stuff now! I was supposed to go see the movie today, but my mom was sick and couldn't go. I don't like going to movies by myself, especially sad ones.

I have a whole bunch of books checked out from the library, and even more on hold. My goal is to read fifty books this year.

Speaking of sad stuff, I started taking down Christmas decorations. God, I hate the end of the season. I'm doing it as slowly as possible. I'm helping Mom with a big project- we're cataloging all of her Christmas ornaments. I'm going to group them by theme or type (glass balls, toys, Santas, etc.), take photos, and write up a bit of history about them. Not every single ornament, because she and Dad have well over 400, but just a general idea of what they have and the stories behind them. I've already done my own tree. Not a lot of history, but I realized that I have nearly 30 Star Trek ornaments!
More stuff behind the cut...
I did a little bit of post-Christmas shopping (gift cards!) yesterday. I bought a couple of new cross stitch charts. This one is called "Ivy".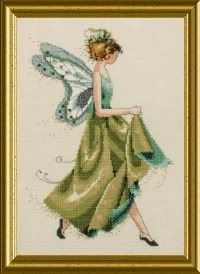 I'm going to work on her right away...but I'm also working on my cousin's wedding present. I'm already getting frustrated with "The Bride", the piece I'm doing. I have until April to finish her though, and still get it framed in time for the wedding.

"The Bride":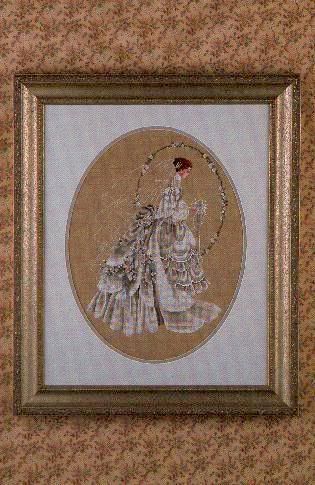 It's not as hard as it looks. There's just so much white! All I've done on her so far is the arm. I might get the head and veil done in a couple of weeks.