The choir event at the National Cathedral was really something. I've never sung in a building like that! There were about 20 other choirs (about 400 singers total). Most of what we sang was Gregorian chant-like music, much of it written for the event- the 80th anniversary of the Royal School of Church Music.

Most of my pictures didn't turn out, but here are a couple- just to give an idea of how huge the place is!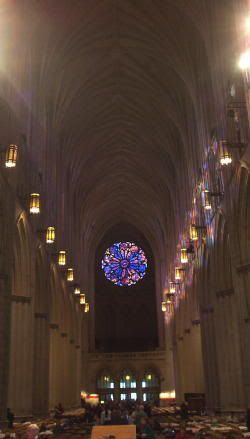 The sound was just incredible. The ceilings are so high! I wish there had been time to take a tour. I'll have to go back someday. It was interesting to rehearse while tours were going on. We had a built in audience!

I would have had more fun if I hadn't been sick. I could hardly sing. One of the pieces had the instructions "ashen-faced, like staring into a void"- and that's exactly how I felt! Hee. It was really beautiful music. Some of it my choir will sing again in our own church.

Time to take more medicine and then crash for another 10 hours. I've got to get better. I couldn't go to church this morning, and the choir really needed me...