I never thought the Kentucky Derby would end so badly. My thoughts about the race and a recipe from my Derby Day lunch behind the cut...I was rooting for Eight Belles, the first filly to run in a decade. She ran well, but obviously too hard. What a horrible end to the race. She broke both front ankles and had to be put down right there on the track. *cries* She was such a beautiful horse. She came in second and then just collapsed. It's very hard to celebrate the (expected) win of Big Brown after what happened...but it was a big win for him.

Despite the sad ending, I really enjoyed watching the Derby. I could have done without all the fawning over celebrities (yawn), but I loved seeing the horses and hearing their stories.

I had a nice Derby celebration with Mom and Dad. I made Benedictine sandwiches as always, and added cherry cream cheese sandwiches and country ham biscuits. And we ate off of Louisville made stoneware (M.A. Hadley). I love the horse platter...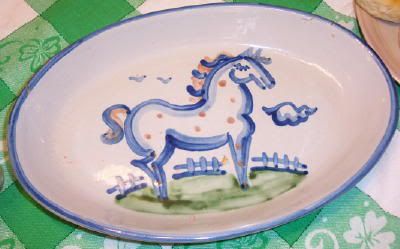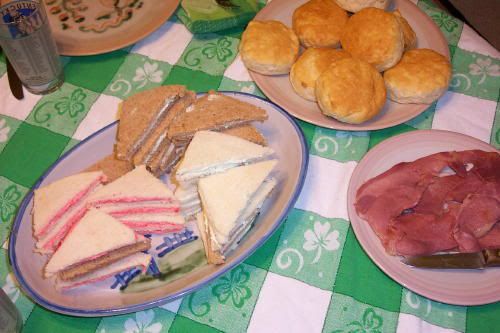 The cherry sandwiches are the easiest thing in the world. I found it in Paula Deen Celebrates
. It's just 8 ounces of cream cheese and a jar of maraschino cherries (drained) blended together in a food processor, then spread on very thin white sandwich bread. Simple and delicious.