But I had a fun Fourth of July anyway! My family had a great dinner, and we did the usual after-dinner tradition of playing games. I won at Monopoly for the first time in my life! I may have a few recipes to share later.

I didn't bother with fireworks- there was a pretty awful thunderstorm in my area. I was also too tired to watch 1776, another Fourth tradition! I'll listen to the soundtrack later.

I made a cute display of my Democratic Party themed toys/jewelry. There's nothing more patriotic than voting for the candidate of your choice, is there? :p My "Vote for Maggie" Madame Alexander doll with her little toy donkey, the Lefty 2004 Beanie Baby (I don't have 2008 yet, Mom has my 2000 donkey), and two pins. (I have the "Righty" Elephants from 2000 and 2004 too. I don't usually display them with Lefty! :p)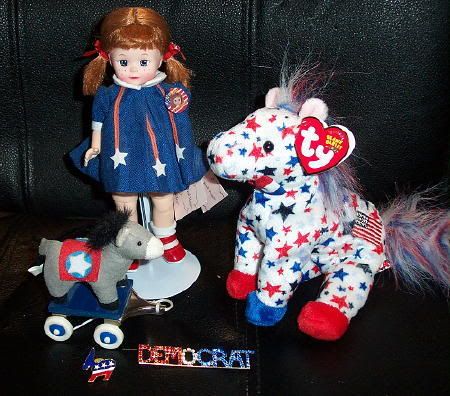 I'm going to see WALL-E today. I hope it's good!