http://www.venetianbeadshop.com/
Expensive stuff, but gorgeous.
I'm really drooling over these: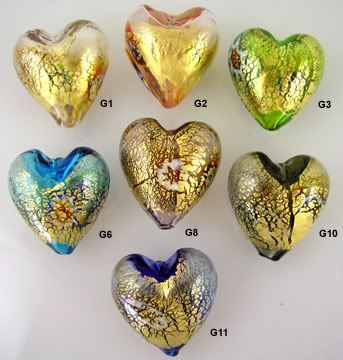 Fourteen dollars...EACH. They're hand-blown and fired, no two alike. About two inches tall. Perfect for a simple necklace. I want the green and black ones!
I'm taking a break from stitching tonight. I'm just looking through my books and making plans/shopping lists. I almost have two Christmas presents done, and the third is an easy project, so I'm right on schedule!
The first bell practice was tonight. It was another one of those "let's just get an idea what's going to happen this year" practices! We only have two pieces so far. We're going to the festival in March- this time it's in Richmond, so it won't be such a long trip!
Last bit about Hanna- there were a few branches in the roads this morning. Leaves, pine needles, seeds everywhere. The Rappahannock River looked like it flooded just a little, but not enough to drown out the roads. Still, it could have been a lot worse, and it was in some areas. Today was absolutely
beautiful
outside. If I could have spent the afternoon walking, I would have. It was sunny and warm with a gentle breeze. Alas, I was stuck inside doing store business that couldn't be put off. *grrrr*
I'm getting into beading almost as much as I am into cross stitch. I've been looking for some fancy big glass beads for some projects. I hit a gold mine here:
Current Mood:

artistic