I went back to the Obama campaign office today to donate some printer paper. As I was leaving, I noticed that the giant Virginia for Obama/Biden sign had been slashed through. I wish I'd had my camera with me to take a picture of it. I'm sure someone at the office noticed...but it makes me so damn mad!



Anyone who destroys a campaign sign is an idiot, no matter whose sign gets torn down, burned, or slashed. It's not just destroying someone's property, it's a violation of their freedom of speech. I wouldn't tear down someone's McCain/Palin sign!

Oh, well, we'll just put up a new, bigger, and better sign next.


This picture: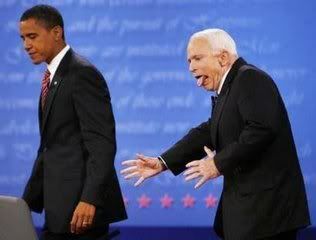 It cracks me up Every. Damn. Time. I see it...The captions I've seen for it are pretty damned funny, too. "Death stars coming out of Obama's butt!" "Obama wonders if anyone noticed that he farted!" And my contribution, a tribute to Airplane!: "Where did you get that suit? It's AWFUL. And those shoes! Ewwwww!"

Another thing about the campaign office- they have a wall where visitors can write down why they are voting for Obama/Biden. Someone wrote: "Obama is never gonna give us up, never gonna let us down...." The office got Barack-rolled!