I had a very long day today. All choir related. I had to sing at two services- four hymns and an anthem at each, and I also had to ring at both. I was at church from 7:30 until 5:30! The reason for the long day was the church's dedication of the new organ. The organ still isn't quite finished, but it sounds great! And the choir and bells were good, too. I heard lots of nice things about us after church. In the afternoon, there was an organ recital featuring several good organists from around town. It was a nice concert. There was a reception after, and I took some of my famous cookies...I spent most of Saturday baking. These were amazing cookies! I'll have to post the recipe later.

I'm too tired to do much of anything tonight!

I could use some sweet dreams tonight...so once again, I borrowed a screen capture of q's- another one from Parents' Night. Bad Bully Bryan! I cropped it because the other bullies in the picture aren't as pretty as he is. Funny how he really hasn't changed all that much in the past eight years...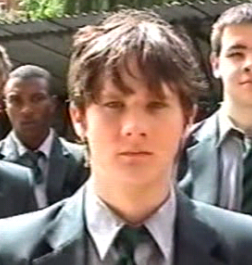 Don't make him angry. You wouldn't like him when he's angry!