This was the only pumpkin from Mom's garden that didn't die. It's so little! It's barely bigger than the Hershey's Kiss I put next to it...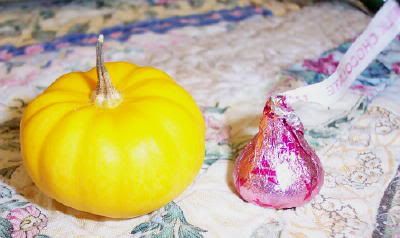 This one is too little to eat, but I think it's actually ripe.

Here's my newest cross-stitch update:

http://kirastitch.blogspot.com/2008/11/autumnstill-in-progress.html

I should get it done in another week!

Grrrr...I always have to miss the Trek BBS meet-ups. There's one on Sunday the 16th- I can never do Sundays. I just can't get out of bell practice. I wish we were meeting on Saturday instead. Speaking of Trek BBS, the election was very good for my post count. :p I think I posted 100 times on election night. I don't think I've ever posted that much in one day, let alone one night!

I'm trying to keep busy to keep my mind off of things. I'm under a lot of stress- mostly worries about my sister (she's having some health issues) and my cousin. One good thing- business seems to be picking up. I spent most of my weekend and today filling orders!

I'm getting my Christmas present a bit early. Next week, depending on sales, Mom is buying me a laptop. I could put it on my store credit card and write it off as a business expense, but Mom insists on buying it for me. Sweet. :D I want a Toshiba like my sister's. It has all the features and memory I need.