Mozart Kugel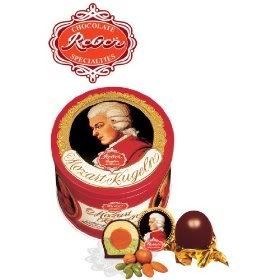 My favorite candy...first had some when I was in Austria 20 years ago! I try to get some every Christmas. Last year, I couldn't find any. :( I love the combination of marzipan, chocolate, pistachio, and hazelnut.
And Dominos...though they're really more like cookies. A bit of gingerbread layered with jam and marzipan covered with chocolate. For some reason, I've only been able to find them at the Quantico commissary.
http://www.dcimports.com/dqdresdnerdominosteine.html
Now I have a bunch of both...and I won't touch them until Christmas Day. *drools*
Another reason I like shopping at Quantico...I can get candy that I usually can't find elsewhere.
Current Mood:

hungry