Do I need to mention how choir went tonight? :p

Director gave us a very difficult piece for the first time tonight...and we're singing it SUNDAY. And Baritone Who Can't Sing

™

is back. He threw us all off...it is so embarrassing! Choir Librarian was a shrill, nasty old cow tonight. She's one of those people who talk and talk...but when someone else is talking, she goes SHHHHHHHH! *rollseyes* One of the sopranos looked like she was ready to strangle her...And I overdid the singing tonight. I'm a bit hoarse.

I'm a little worried about Sunday. If Baritone Who Can't Sing

™

doesn't show up (fat chance) we should do fine. If he does...well, we'll do our best. We've been so good the past couple of weeks, both in practice and in church.

My aunt got home fine yesterday. Her flight wasn't delayed despite the snow, and she arrived in Louisville right on time. I probably won't see her again until July.

I might do a bit of bead hunting on Friday. There are a couple of things I need for a new project. Nothing else planned for the weekend...I'm still tired from last weekend! On March 17th, Mom and I are going to a needlework show/sale. I'm looking forward to that. I love to see other cross stitcher's work, and to check out new products and charts. I should have my Tiger Lily piece done by then...I might take it along to show off!

My latest progress on Tiger Lily:

kirastitch.blogspot.com/2009/03/very-little-tiger-lily-this-week.html

And here's my latest beadwork: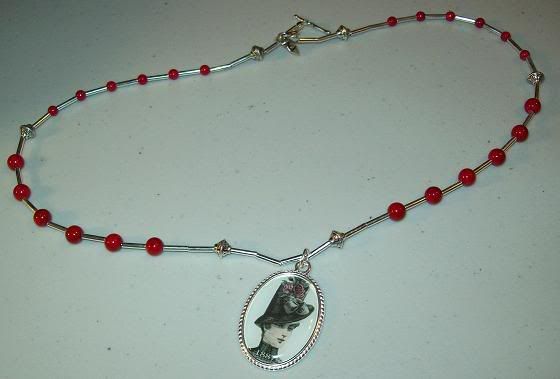 It took an hour to do. The red beads are coral. I made a necklace/bracelet set for my aunt, which she loved! Silly me, though, I forgot to get a picture of it for my beading blog.