Big DC Metro accident tonight at the height of rush hour. Two trains collided, the pictures look like they're stacked like pancakes! 4 dead and 70+ injured. :( Worst accident in Metro's history. I hope the death toll doesn't rise, but looking at those pictures I'm surprised it was this low.

ETA- six dead, according to WRC 4.

ETA 2- this picture from Associated Press: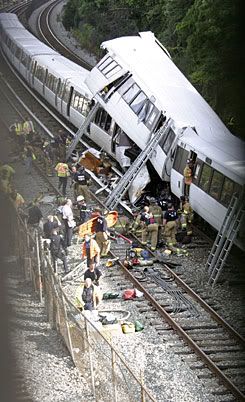 The bottom car is unrecognizable. I hope there was no one in there...but that's unlikely. :( The emergency services haven't been able to get into the bottom yet, and say there could be more fatalities.