Yesterday was spent with family eating and shopping. :p We went to Guru for lunch, then I went to Borders to spend my gift card. I found a great jewelry making book and a pocket calendar...and then learned that I had Borders bucks to spend, too! So I have a bit of money left of the card. *lol* The gift that keeps on giving! Then Mom and Dad and I went down to Dillard's. They didn't have a lot of huge bargains, but I did get a couple of nice tops and cute kitty pajamas.

My new T.V. is awesome!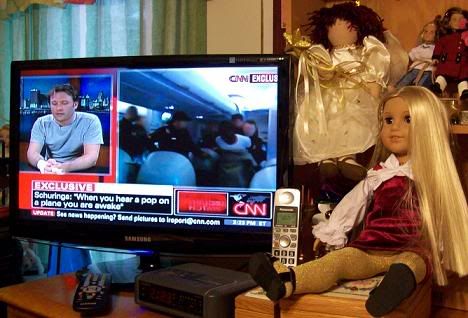 I spent the day after Christmas setting it up, and re-arranging my display for my dolls. Still trying to find a place for the Barbie and Kens! My new angel doll looks so cute next to the T.V.!

My family had an awesome Christmas. After all the crap we went through this year (some of which is still going on), we deserved it!

Spending New Year's Eve partly with friends from the library for lunch and a movie (hopefully It's Complicated), might go over to my sister's to celebrate at night.