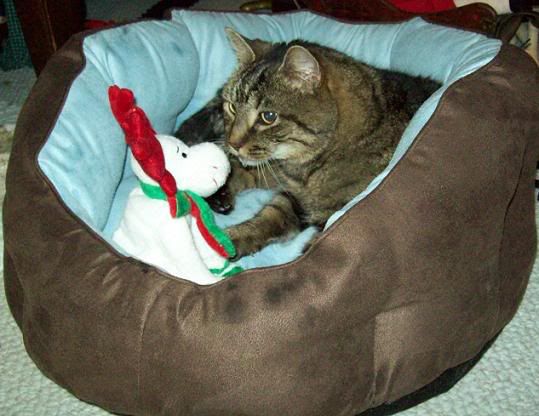 That moose belongs to him now. He loves to cuddle with it when he naps! I'm spoiling him rotten now. I think he's starting to get used to being the only cat. :(
Spent New Year's Eve eating out with friends, shopping, and going to the movies. Mom and Dad and I went to see
It's Complicated
. It's a real fall out of your seat, choke on your popcorn, shoot Coke out of your nose kind of comedy. I thought I was going to die laughing! Meryl Streep and Alec Baldwin are just awesome in it. Steve Martin was good, too.
I'm dreading the next week. It's time to take down the Christmas decorations. :( I always wait until the very last day (January 6)- Christmas really isn't over until Twelfth Night! :p
Eddie has a new bed, and he seems to like it!