The most to die for cake I've ever made: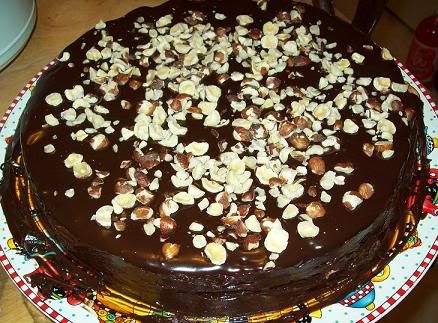 Flourless Chocolate-Hazelnut Cake
1 (13 oz.) container Nutella
1/3 cup light-brown sugar
1 stick softened unsalted butter
6 large eggs, separated
10 oz. chopped bittersweet chocolate, melted
1 cup hazelnuts, finely ground in food processor, plus more for garnish

1. In the bowl of an electric mixer, cream together Nutella, sugar and butter. Beat in egg yolks, one at a time, until incorporated; beat in chocolate until combined. Fold in egg whites and hazelnuts. Transfer batter to a buttered 9-inch springform pan; smooth top.

2. Bake in a preheated 350° oven 45 to 55 minutes or until edges pull away from sides of pan and cake is set and no longer wet. Transfer cake to a wire rack to cool 10 minutes; run knife around edge of pan and remove outer ring. Let cake cook completely; pour Nutella-Chocolate Ganache over cooled cake and sprinkle with chopped, toasted hazelnuts.

Nutella-Chocolate Ganache
Bring 1 cup heavy cream and 1 (13-oz.) container Nutella to a boil in a medium saucepan, stirring to incorporate Nutella and cream. Remove pan from heat; add 8 oz. chopped bittersweet chocolate. Let sit 5 minutes; stir to combine. Pour over cooled cake while still warm.

I like flourless cakes! The ground nuts take the place of the flour. The resulting cake is moist inside with a thin crust outside.

Nutella is food of the gods. I'll eat it straight out of the jar, but damn this cake is good. Very rich, though.