I went with Katie to Giada's training this morning, so I could get an idea of how to handle her when I dog-sit this month. She's a very good girl! She's still learning not to jump on people, but she lets me walk her (which surprised Katie) and would respond to commands. She's got "sit", "lie down", and "stay" pretty much mastered, but still needs work on "come" and "down".

What a cutie- she thinks she can drive now. :p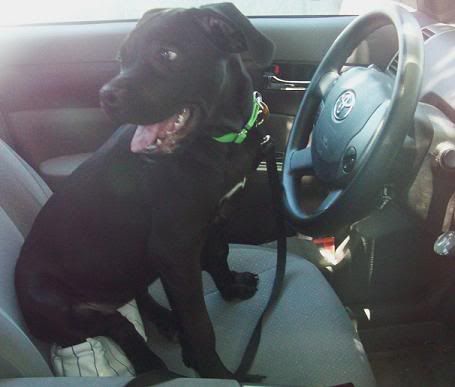 She's a sweet and mostly well behaved dog, but she wears people out!

Went to lunch at Qdoba after, and did a little shopping. I got a new Nats T-shirt. My old one wore out. :( Now I need a Mets shirt, too! Lucky Katie, Paul, and Sam went to the Nats/Mets game yesterday. The Mets won! I'm going to a Nats/Cubs game in August.