www.thedenverchannel.com/news/25791986/detail.html
Had a ball doing some early Christmas shopping at Ulta. In addition to tons of little and not so little goodies for Mom and Katie, I got some holiday themed nail polish- "Wicked Wonderland". The red is "Bad Santa". LOL!
I also picked up this calendar- I just had to have it.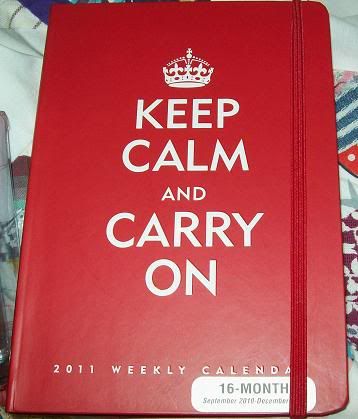 And it's a 16-month calendar, so I can start using it now!
Weather happenings- we finally had our first frost yesterday. I guess this is Indian Summer now. :p It was sunny and warm today. I loved it! It's raining now. The real fall weather is coming. :( Do not want.
I'm reading through the Sherlock Holmes novels and stories. I borrowed three VERY large volumes from the library. So far I've read two of the novels. It's fun to compare the new series to the books! More than ever, I think the new series is dead-on with the characters, even in a new century!
This happened in my former hometown yesterday. The headline read: "Helicopter Crashes in Broomfield High School Field". Which caught my attention, because that was my school! Then I read the article and found out it was actually Legacy High School, which opened long after I left Colorado. No one on the chopper was hurt, no one was on the field, either. Headline fail. :p