While shopping at Michaels today (buying frames for my Doctor Who stitching), I found this: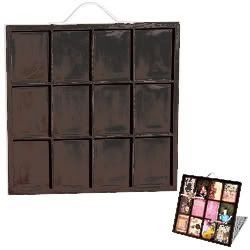 It's like a typesetter's case, only designed for photos, postcards, and other ephemera. I'm going to put photos and little trinkets in mine, and give it to Mom and Dad for their anniversary. I'll have to get one for myself, too.

I also ordered a bunch of Tim Holtz scrapbooking papers and stickers online- Michaels carries the brand, but not the stuff I wanted. I'm going to have fun the rest of the summer. His stuff is great for making jewelry as well as scrapbooking.