I thought Monkey Love was supposed to be a totally crap movie, but it was actually kinda cute. Jeremy Renner was adorable as hell. The story was a little weak and unoriginal (girl falls in love with her two best friends), but it was still sweet. And it had a happy ending- Jeremy gets the girl. Oh, the reason it's called Monkey Love is because one of the male friends is obsessed with the mating habits and dick sizes of primates. :p

And there was this naughty little scene: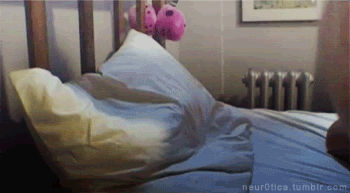 Other movies- One of the reasons I loved Moonrise Kingdom so much was the music. I had to get the soundtrack. Benjamin Britten's opera Noye's Fludde figures heavily into the film's plot. The scenes with the opera being performed brought back so many memories! When I was a little girl, my church did a production of it, and I was one of the animals! A pig, if you must know.
I can't believe how much I remember from it.
Here's a production found on youtube...not a great recording, but it's the whole opera:
http://www.youtube.com/watch?v=kT01wqcfnps&feature=related

Alexandre Desplat's score was also heavily influenced by Britten. The music over the credits is set up like Britten's A Young Person's Guide to the Orchestra.