Renner fandom is annoying right now, with all the baby mama rumors. There's a photo of his ex, who
is
pregnant, floating around, though Jeremy won't publicly acknowledge if it's his or not. I wish he would, because (and this is the part that annoys me) people on gossip sites are calling her a whore and a gold digger. That's not fair.We don't know the situation. It might have been an accident, it might have been accidentally on purpose, he might be paying her to be a surrogate (if it is his), she may have a new man in her life who is the father. They broke up ages ago and it was never serious. It's just not our business, But private guy or not, he really should say something so she doesn't get hurt. People are assholes. And mean. I'm staying out of
ohnotheydidnt
until this passes. Love the idea of Jeremy being a dad.
No idea how Jeremy himself is reacting to this crap, but this old pic of him sums up my feelings...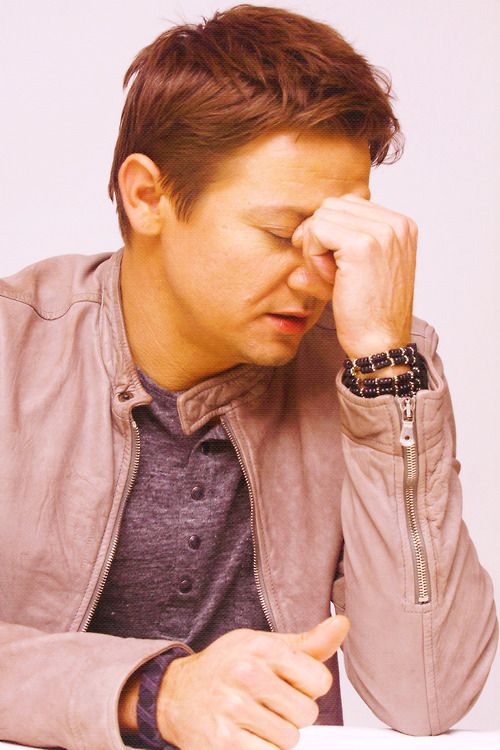 *smh* I'm with you, Jeremy!
Hansel and Gretel: Witch Hunters was a blast. It was good gory fun. Loved the little anachronisms like the weapons and the drawings on missing kids on milk bottles. Very action packed. And of course, Jeremy Renner was totally hot. Yum. Leather clad Jeremy is good. Shirtless and non-manscaped Jeremy in water is even better. Why did they show the girl's ass but not his? Sad KM is sad. Gemma Arteron kicked serious ass as Gretel, and Famke Janssen was a suitably evil HWIC (Head Witch In Charge). Not great movie making, but a fun way to kill an hour and a half.